Minnesotans came together at Carleton College's Weitz Center in Northfield on Thursday, August 21st to learn about community solar gardens and three projects around the Southeast CERT region. This open event was held to educate people about what a few groups in the region are trying and what they have learned from starting community solar garden projects.

Touring Carleton's renewable energy installations

Solar at Carleton: Martha Larson, Manager of Campus Energy and Sustainability at Carleton College, welcomed the group and gave an overview of Carleton's renewable projects and their ideas for the future. Carleton has a 10.6kW solar photovoltaic (PV) panel array on the roof of a residence hall, Cassat-James, which was constructed in 2009. The panels produce 10MWh per year on average, which is roughly 1-2% of the building's energy. Additionally, they have solar thermal collectors on the same roof that provide solar hot water to the building's primary domestic hot water tank. Attendees were able to tour campus and see the solar arrays and control panels.
Wind at Carleton: Carleton is also home to two wind turbines. The first was built in 2004 and made Carleton the first higher-ed institution to build one. This 1.65 MW turbine's energy, which is equivalent to approximately one third of Carleton's total energy use, is sold back to Xcel Energy. The second wind turbine, a 1.68MW system built in 2011, feeds the Carleton grid and serves about 31% of Carleton's electric use. In 2013-2014, the turbines produced 4827 MWh and 4776 MWh respectively. Each turbine meets the needs of the equivalent of 500-600 homes on a third of an acre, whereas the equivalent in solar would need 25 acres.
Thinking big: "Think big! Then bigger!" is the motto Carleton has been taking on as they proceed in thinking about projects. The Campus has a Facilities Master Plan to help lay the groundwork for future projects and have decided that retrofitting, rather than adding square footage to the college, is the way to go. Some potential ideas in Carleton's future include ground source heating and cooling, combined heat and power, and evaluating energy usage in subdistricts (e.g., building areas used in the summer months). Click here to learn more about Carleton's energy use and click here to learn more about their existing projects. The group had a chance to visit the Cassat-James Residence Hall to check out the two solar projects and the basements of both buildings to see the meters, piping and tanks (yes, that's what you're seeing in the pictures!). Their biggest lesson learned from all of their work: it takes a champion! Click here to see Martha's presentation about Carleton >>

Learning about community solar gardens

Community solar overview: Micah Johnson—Southeast CERT Steering Committee member, solar installer, and self-proclaimed energy nerd—began the next portion of the event with an overview of solar, community solar gardens, and what projects are currently online. He helped folks to understand the scale and payback of community solar. Micah highlighted four projects that are currently up and running, including projects owned by Wright-Hennepin, Tri-County Electric, Connexus Energy, and Lake Region Electric Cooperative. Additionally, Micah talked about what projects are in the works, including Great River Energy's 19 systems planned and Xcel Energy's upcoming Solar*Rewards Community MN program. Micah, citing the Solar Energy Industries Association, pointed out that less than 30% of households have a rooftop solar option, so community solar gardens are an attractive option for people who want to have renewable energy offsetting all or a portion of their energy usage. In his presentation, Micah did some calculations and helped the audience to understand scale and average paybacks for their solar investments. See Micah's first and second presentations for more details and his breakdown of projects.
Progress in Winona: The next portion of the event was focused on hearing from three different groups who have begun the conversation about putting together a community solar garden, what their experiences have been and what wisdom they could impart on the group. Chris Meyer, an active community member in Winona, started off the conversation and spoke about the project she and a group of other Winona community members have begun. With the help of a SE CERT seed grant, they are seeking out models of putting together a community solar garden that, "keeps the community in community solar". The grant they received is being used for legal help; aiding the group through the technical and legal terminology. They hope to put up a 1MW system in Xcel Energy territory in Winona. Chris said one of the biggest questions they have tackled is who should own the system. Stoel Rives, the attorneys that the group decided to seek help from, helped to describe the tax benefits of community solar and to whom they might apply and to whom they would most benefit. Through discussions, it seems to the group that a privately owned system, which would see the benefit of the investment tax credit, might make most sense. Chris and the group are still early in the outreach process, but hope to connect with local partners including Winona State University, Winona Area Public Schools, Southeast Technical College, St. Mary's University, the City of Winona, and big businesses in the region. Additionally, they are hoping to use local labor for installation and want to find a host site that could really benefit from the educational component. Her advice to the group was to talk to developers and learn about how they differ and what the options out there are. When asked what the Power Up Winona group was most excited about, Chris said that they were all excited about being for something. See Chris' presentation >>
Getting organized in Northfield: Erica Zweifel, who wears many hats in Northfield, including that of a city council member, spoke on behalf of a group in Northfield, which formed in January of 2014 with the intent on working together to get a community solar project started. She spoke of a two-prong model that they came up with to satisfy the interests of the whole group. The first prong has been to pursue a larger (likely 1 MW) project in partnership with a developer (they have gone with Minnesota Community Solar) and work through the process with them. The second prong is to learn as much as they can from this first experience to advance a more grassroots effort. After deciding what they wanted out of the experience, they began to create a criteria list for host sites and started looking at developers. From May to July, they put together their list and chose to work with Minnesota Community Solar. They've now begun work on recruiting subscribers, including a training session on how to conduct outreach (including relevant legal matters and technical terms).They hope to be ready to apply to Xcel Energy in November and to break ground on their project next spring. They are hoping to connect with groups of all sectors including schools, churches, and non-profits.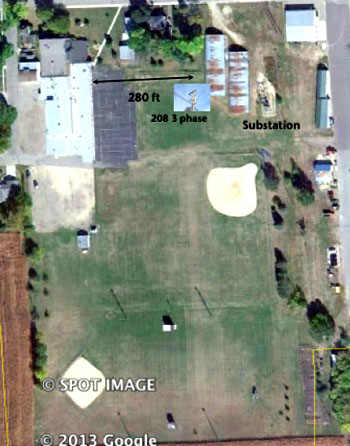 Exploring opportunities in Amboy and Keister: Due to consolidation of school districts, many school buildings have been left vacant. Rich Huelskamp presented on behalf of the Region 9 Economic Development Commission, who have reached out to Keister and Amboy, two communities with vacant school buildings who expressed interest in wanting to repurpose them as community centers. Keister has made some progress with their building, but Amboy, a town of around 500, is not as far along with the building, due to needed upgrades and some unfolding, exciting new ideas. With support from a SE CERT seed grant, Region 9 hoped to help show Amboy energy options, especially community solar, that might fit in with their updated community center (see potential Amboy community solar site in the image to the right). However, with the break-up of Alliant Energy, Amboy is now looking at starting their own municipal utility. That process has taken the front seat, but they continue to look at what benefits and roadblocks may lay ahead and what other options the future may hold. Amboy is a great example of how on-the-ground projects can spur conversation that leads to new ideas.
Host site tips: A few of the questions and answers the panelists discussed included what makes for a good host site. Here's the short list of considerations the panelists thought were important to consider for a 1 MW project:
Install on a site with a good solar resource
Choose an area with either 3-8 acres of land or 100,000 sqft of roof space (ideally a new roof)
Located in Xcel Energy Territory (to participate in the Xcel Energy program)
Site close to existing electrical infrastructure like a power line or substation
Don't install on prime agricultural land
Choose a visible area so it draws interest from the public
Siting near another energy project can be beneficial
We'll be adding these answers to what makes a good host site to those currently cataloged on the CERTs website: Community Solar Gardens Frequently Asked Questions.
It was great to hear from these speakers who have already taken a deep dive into what a community solar garden project might look like at the local level. Based on participation in the room, Minnesota is ripe for community solar growth!

Tour and event photos
More Information

See the presentations:
Feel free to find out more about these projects by emailing the presenters below:
Additionally, see the CERTs Community Solar Guide and two articles from the Post-Bulletin:
---
Community Solar Gardens are centrally-located solar photovoltaic (PV) systems that provide electricity to participating subscribers. Could it work for you?

Are you interested in going solar but unable to do so on your own? Perhaps you live in an apartment, have a shaded roof at home, or don't have space at your organization.

Where do you want to start?