Lake Region Electric Cooperative (LREC) members now have the opportunity to purchase part of the output from their newly-installed HQ Prairie solar project being built on the restored native prairie at LREC headquarters.
The HQ Prairie solar array consists of 96 solar panels with a combined capacity of 39.36 KW or 39,360 watts. The array is expected to produce about 1.1 million kWh of clean, renewable electricity over the next 20 years. Each module has a nameplate capacity of 410 watts and will produce an average of 588 kWhs of electricity each year.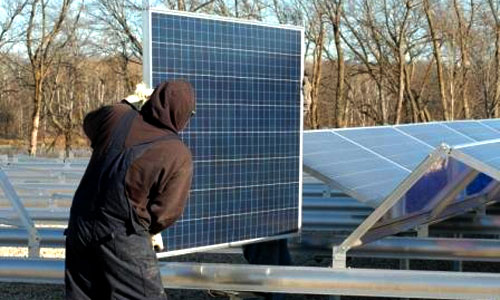 A recent study found that some 80% of homes in America are unsuited to the installation of solar on-site due to shading, structural or ownership issues. LREC community solar provides a simple, affordable, low-risk way for LREC members to be part of the solar movement.
Members can purchase the output of either a half or full panel and have the kWhs produced by their panel(s) credited to their bill each month. The production from the panel will offset monthly electric consumption and members will receive full retail rate credit for each kWh produced. Since member interest is high and this first project is relatively small, members will be limited to 10 panels or the equivalent of their annual average usage, whichever is lower.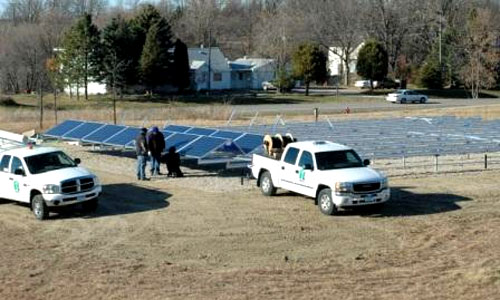 LREC has already installed the solar project and will operate, maintain, and insure it as well. Those members choosing not to participate will not see any change in their electric bill resulting from the project. "Our co-op's community solar project is a market-based approach to offering solar electricity, and the greatest thing is that everyone in its value chain is either local or a member of our cooperative family," says LREC CEO Tim Thompson.
See the graphic below to learn more about the project approach, click here to learn more on LREC's website, or check out a recent news story with video.
---
Community Solar Gardens are centrally-located solar photovoltaic (PV) systems that provide electricity to participating subscribers. Could it work for you?

Are you interested in going solar but unable to do so on your own? Perhaps you live in an apartment, have a shaded roof at home, or don't have space at your organization.

Where do you want to start?