"This is the first 100% low-income shared solar array in the state of Minnesota, and the first low-income community solar array integrated into energy assistance (LIHEAP) in the nation!" notes Jason Edens with Rural Renewable Energy Alliance, the solar developer for the five Leech Lake Band of Ojibwe solar installations.
"With 42% of the Leech Lake Nation living below the poverty level, this solar facility will help ensure low-income families have the resources to reduce their energy costs. It is the first community solar array in Indian Country in the nation."
Below are excerpts from a Bemidji Pioneer article and an LPTV news segment.
At a ceremony, fittingly under sunny skies, Leech Lake officials and representatives from the Rural Renewable Energy Alliance unveiled a new solar array at the Prescott Community Center. The walls of solar panels at the community center are one of five spread throughout the reservation, with others at the Palace Casino, Leech Lake Tribal College, the Rural Renewable Energy Alliance office in Pine River and a fifth in Jackson Village.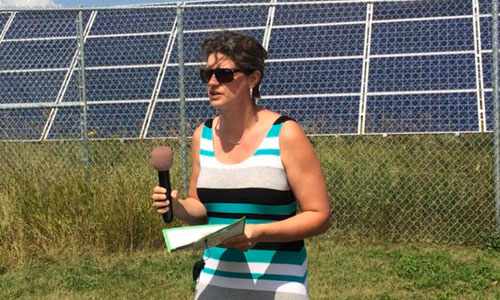 "They've been installed to serve low income, energy assistance community members," said Brandy Toft, Leech Lake environmental deputy director. "It's not just for the people here at Prescott, it will serve the whole Leech Lake reservation." Last year, Leech Lake energy assistance helped pay off the energy bills of nearly 1,000 households in Beltrami, Cass, Hubbard, and Itasca Counties. The solar installations will power an additional 100 homes.
The effort began about two years with the goal of making energy more accessible to low-income communities. Leech Lake partnered with the Rural Renewable Energy Alliance, or RREAL and received funding from numerous sources.
As the project developed, it became a benefit in more ways than one, providing an opportunity to give training and renewable energy employment to area resident. For example, Leech Lake Tribal College students were involved and select construction trades trainees obtained licenses with hands-on training.
"Anytime we can help someone develop the skills so that they can be economically self-sufficient and give back to their community, you're having a good day," said Don Hickman, Vice President with the Initiative Foundation.
Because of the project's progress since its inception, it was the recipient of a 2016 Clean Energy Community Award from the Minnesota Department of Commerce. Now that it's finished, the project is the first, 100 percent low-income community solar installation in the state, as well as the first in the country on tribal lands.
Jason Edens, RREAL Director, said the project will play an important part in combating what he called energy poverty. "What we're advocating is that clean energy, like this solar energy, is a powerful tool in the fight against energy poverty and we can permanently address it by delivering solar power directly to low income communities."
"RREAL has provided a really groundbreaking project that will be exciting to see replicated not only here in Minnesota but across the country," shared Anna Carlson, Northwest CERT Coordinator and Assistant Sustainability Director at Bemidji State University.
Racking for the installation was donated by Malina Solar Structures. "We're pleased to be able to support this ground-breaking project," said Patrick Holt, North American Sales Director for Malina.
Click here to read the Pioneer article, and watch a feature by Mal Meyer about the project from LPTV below.
---
Community Solar Gardens are centrally-located solar photovoltaic (PV) systems that provide electricity to participating subscribers. Could it work for you?

Are you interested in going solar but unable to do so on your own? Perhaps you live in an apartment, have a shaded roof at home, or don't have space at your organization.

Where do you want to start?