Community solar programs are gaining increasing interest from electric utility customers across the nation. Unlike individual solar PV systems, community shared solar systems, also known as Solar Gardens, create an opportunity for multiple individuals and organizations to receive the benefit of a larger solar installation without requiring it to be located on-site. For local government entities, these benefits include supporting clean energy and its positive local economic impacts, saving on energy bills for public facilities, and hedging against the future price volatility of electricity.
A new report released by the Clean Energy Resource Teams, a partnership of organizations working with communities on clean energy projects in Minnesota, highlights the unique ability for community solar projects to facilitate collaborative action. The report documents one of the first applications of collaborative procurement to solar gardens, under a project called the "Governmental Solar Garden Subscriber Collaborative," which brought together 31 local governments in Minnesota under a single procurement process to seek solar garden subscriptions for public facilities.
First of its kind: While collaborative solar procurement has been well-documented as an effective way for local governments to procure individually-owned solar PV systems at reduced costs, the approach has not been widely adopted for procuring community solar subscriptions.
Inside the report: The report details the project's formation, the process for collaboration, an evaluation of the financial opportunities presented to participants, key results, and lessons learned for other seeking to use a similar approach to scaling up adoption of solar among local governments. By working together, the project participants sought to gain an economy of scale in the solicitation process that could help to attract developers, reduce the administrative burden to vet those developers, and yield better pricing and subscription terms.
In-depth article: Frank Jossi with Midwest Energy News interviewed project team members and local government participants to put together a comprehensive article recapping the collaborative. Click here to read the article.
An award-winning partnership: This effort was recently the recipient of the 2017 Environmental Initiative Award for Community Action and a 2017 Minnesota State Government Innovation Award from Humphrey School of Public Affairs.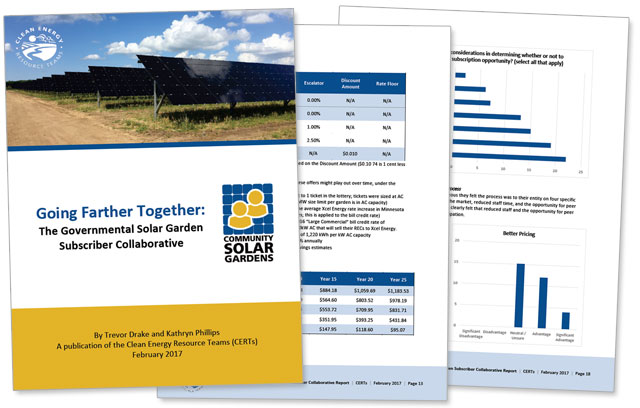 Trevor Drake
Metro CERT Co-Director, Great Plains Institute
612-767-7291
[email protected]
---
Community Solar Gardens are centrally-located solar photovoltaic (PV) systems that provide electricity to participating subscribers. Could it work for you?

Are you interested in going solar but unable to do so on your own? Perhaps you live in an apartment, have a shaded roof at home, or don't have space at your organization.

Where do you want to start?