How much energy could you save just by giving business owners a face-to-face reminder of the available rebates from their local utility? CERTs and the Southern Minnesota Municipal Power Agency (SMMPA) decided to find out.
The Plan: Over the course of 19 months, CERTs staff visited 15 of SMMPA's 18 member municipal utilities to increase awareness about their rebate programs. CERTs went door to door across the communities speaking with the local businesses and provided each business with a letter of introduction from the SMMPA Energy Service Representatives (ESR), a letter opener that included the ESR's contact information, a list of current rebates, a CERTs Right Light Guide customized for the utility, and a sign up form to receive information from the local utility via email.
An effective partnership: "We started with five communities during 2014, and as a result of the positive feedback and impacts after the first few visits, we agreed to expand our efforts to SMMPA's remaining 10 smaller member communities," said CERTs co-director Joel Haskard. "It was a labor-intensive effort, but it worked really smoothly. The SMMPA representative was always in the town, too, and he or she could quickly respond to a business' request for a rebate form or with any questions they might have."
The project finished in the fall of 2015, with the following results:
1,428 total customers visited
196 total commercial customers requested follow-up from

ESR

, or contacted

ESR

after

CERT

s visit
100 total contacts added to

SMMPA

's email blasts and Questline distribution lists
Outreach efforts have led to total energy savings of 1,038,911 kWh to date (3.7% of the combined 2014 and 2015

CIP

savings goals of 27,826,766 kWh for these 15

SMMPA

member utilities).
Check out a map of the communities
CERT

s visited!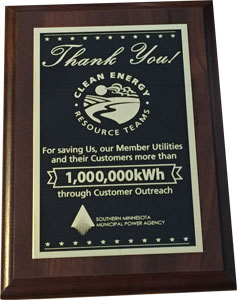 Results oriented: SMMPA's John O'Neil, Manager of Energy Efficiency and Member Support, was impressed with the results: "These visits were geared at increasing awareness of—and ultimately spurring participation in—our commercial and industrial rebate programs. I knew that this direct outreach would result in energy savings, but I wouldn't have guessed that it would be over 1,000,000 kWh!" SMMPA was so pleased with the results that they presented CERTs with this nifty plaque, at right. Glad to be of service!
What now? CERTs continues to partner with business owners across Minnesota to highlight the savings available to them with their local utility rebates. Recent projects have included coupling utility rebates with PACE financing, promoting rebates for canopy lighting at gas stations and convenience stores and energy efficiency and renewable energy opportunities for rural small businesses and farms.
Award winning: We wanted to take an opportunity to congratulate SMMPA for a recent award they received! Southern Minnesota Municipal Power Agency (SMMPA) and its member utilities just earned a 2016 ENERGY STAR Partner of the Year award from the EPA. It's their fourth award for protecting the environment through energy efficiency. Click here to read more in a recent press release.